A Delightful Anniversary
January 1, 2017
December 27 marked Father Jose's 21st Anniversary of Ordination, and parishioners turned out in force to celebrate with him. The evening started with Mass, in a church beautifully decorated for the Christmas season – lights twinkling, the stable warm and well-lit, the Star of Bethlehem high above the altar.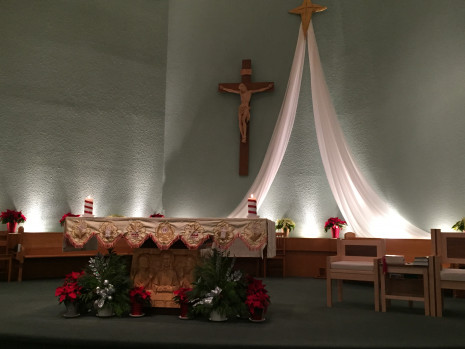 After Mass we gathered in the hall for a feast provided by Charlotte's Catering. Roast beef, potatoes, hot vegetables and an amazing array of salads topped were topped off by light and fanciful desserts.
Father enjoyed various speeches and presentations from members of his flock, and then the highlight of the evening – a special performance from a troupe of dancers who performed for us. They were a whirling, spinning pageant of delight. And then there was cake ... no celebration could be complete without a special cake to top off the night.
Special thanks to Roberta Dreher, Marge Tunison, Donna Costella and all the helpers who made this wonderful evening possible. And to Penny Forrest for keeping events moving along very nicely indeed!
Mass Schedule
English
| | |
| --- | --- |
| Sat | 5:00pm |
| Sun | 10:00am |
| Mon | No Mass |
| Tue | 8:00am |
| Wed | 8:00am |
| Thu | 8:00am |
| Fri | 8:00am |
Korean
All Services