Little Flower Parish
Reconciliation Service

Tuesday, March 20 @ 3 p.m.

Several priests will be available to celebrate individual reconciliation with parishioners.

Palm Weaving

Saturday, March 24 @ 1:30 p.m.

Come learn how to weave and fold your palms and make beautiful, blessed decoration for your home. Call the office to register, 306-522-8583.

Get involved!

Sunday, March 25

The Little Flower annual general meeting is Sunday, March 25. All are asked to attend if possible.

We need your voice to help decide the future of our parish.

Contribute to our parish

Nominations are now open for various ministries and council positions that are essential to the smooth and continuous operation of Little Flower parish.

Speak to Fr. Jose about how you can contribute.

Curious about Lenten Fasting?

Read this blog from Father Jose about fasting and abstinence during Lent. Learn what God wants from each of us, and how the faithful respond.

Fish Fry-day

Please join us for our Lenten FISH FRY and let us do the cooking for you!

March 23 at 5 p.m.

$12 each

Summer positions posted

Work at Camp Monahan this summer! Staff positions are now posted. Apply today!

Archbishop's Priorities for the Archdiocese

Copies of the Archbishop's Priorities for the Archdiocese have been translated into French, Malayalam, Filipino and Vietnamese. Click here to get details.

Social Justice in Motion Conference

The Melville-Archdiocesan Social Justice in Motion Conference will be held on Saturday, April 21, 2018 at St. Henry's Parish in Melville.

Ready for Electronic Giving?

Now you can make your offering gifts by automatic transfer from your bank account to Little Flower. Read more information in this document.
From the Archdiocese of Regina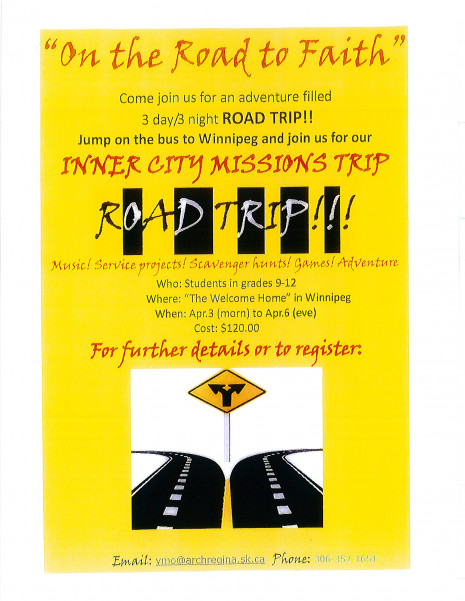 ---
A podcast brought to you by the Archdiocese of Regina attempting to navigate this winding road of faith in Jesus Christ so that we might know him more intimately, love him more profoundly and together serve him more deeply in our daily lives.
Have a question you'd like them to address on the show? Email Eric at egurash@archregina.sk.ca.
Bert Pitzel

Social Justice Director

Brett Salkeld

Archdiocesan Theologian
Other blogs and sites worth following
| | |
| --- | --- |
| Messages from Pope Francis on YouTube | Find the peace and joy that can only come from God. |
| Insights from Bishop Robert Barron | Exploring the intersection between pop culture and faith. |
| | |
Welcome To Little Flower
Roman Catholic Church

Little Flower parish was established in 1930, and today serves almost 500 families from our beautiful church near Regina's core.
Our mission: Little Flower, as a faith community, reaches out to all in service, compassion and love to fulfill our mission of proclaiming the gospel daily in word and deed.
Our Patron, St. Thérèse
I will spend my heaven doing good on earth. I will let fall a shower of roses.
Thérèse Martin entered a Carmelite convent at age fifteen. As Sister Thérèse of the Child Jesus, she lived a hidden life. She was just 24 when she died of TB. The world came to know her through her autobiography, The Story of a Soul.
She described her life as "a little way of spiritual childhood." She lived each day with unshakable confidence in God's love. What matters in life is "not great deeds, but great love."
"My mission — to make God loved — will begin after my death," she said. "I will spend my heaven doing good on earth. I will let fall a shower of roses."
This is the reason St.Thérèse's emblem is a crucifix covered with a profusion of roses. The celebration of her Feast Day is October 1.
Our Stained Glass Windows
The windows in Little Flower church were designed and manufactured by Rault Freres, of Rennes, France, and installed by Burns Hanley Co. Ltd. of Regina.