Little Flower Parish
---
Weekend Mass Times
New regulations mean 30 people maximum. Temporary mass times are below. Watch for your notification which mass you've been invited to attend:
Saturday: 5 p.m. and 6 p.m.
Sunday: 10 a.m.
You MUST register every week, and you MUST wear a mask.
To be on the weekend Mass list, call or email the office by Thursday that week (office hours are currently restricted to Tuesdays and Thursdays). Click here to email.
After your turn, contact the office again to be put on the wait list for a future Sunday Mass (by Thursday). Little Flower parishioners May attend weekday masses without invitation.
Reconciliation is available by appointment. Or arrive at least 30 minutes before mass and mention your request to an usher.
---
Archbishop Encourages Faithful to Consider Vaccination

Following the directives, guidance, and research carried out by the Vatican and other bodies of bishops world-wide, Archbishop Don supports efforts to provide vaccines to the people of Saskatchewan and encourages the faithful to seriously consider receiving the vaccine as it becomes available. Read the 20-point report from the Vatican's COVID-19 Commision, here.

All Night Adoration

Join the First Friday /First Saturday all-night vigil in honour of the Sacred Heart of Jesus and the Immaculate Heart of Mary at St. Mary's Parish.

Please come for some or all of the vigil.

Prayer In Solidarity with Indigenous Peoples

O God, Great Spirit and Faithful Creator, with humility we your children acknowledge the relationship of all living things. For this we thank you, we praise you and we worship you.

We call on you, Great Mystery, the Word made Flesh – our teacher,
prophet and brother - to open our hearts to all our brothers
and sisters, and with them to grow in the wisdom, honesty,
courage and respectfulness shown in The Sacred Teachings. Give us the honesty to recognize that the Earth provides us with life sustaining breath, nourishment and healing, and give us the strength to proclaim by our words and actions that the Earth is a blessing for all peoples.

May we avoid the sins of exploitive personal power and profit. May
we seek the righteous way of love, service, and healing in all things. Father, as we walk our journey on this Earth, may your life-giving Spirit protect and guide us with your Wisdom so that we might live in right relationship and harmony with all humanity. May we pass on to future generations this Earth and all your gifts as you have provided them to us. Amen.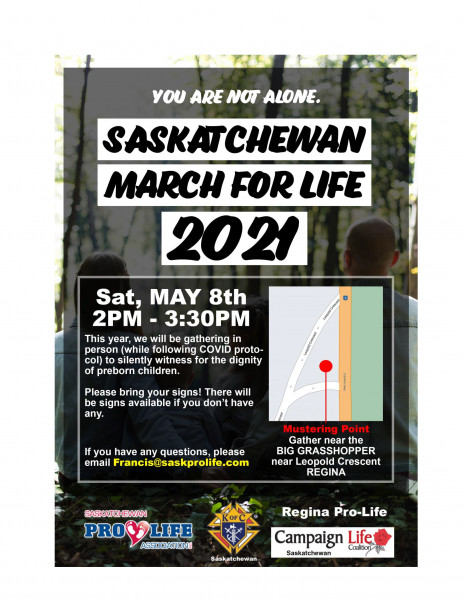 Leadership Camps
Teens Camp - It is yet to be determined if our camp for
teens will run as an overnight camp or as day camp experiences. But the dates have been set and more details
will be available in May. The camp days will be July 12,
13,14,15.
Young Adult Retreat/ Summer Camp - Kind of
like summer camp….but for adults! Join other young
adults for an opportunity to pray, rest, contemplate and
grow in a beautiful lakefront setting. But also
….volleyball, campfires, hiking, great food and beach
time. Mark your calendars for Friday, July 16th to Sunday, July 18th. More details to come in May.
Retreat
Arise Catholic Women's Retreat
Arise Catholic women's retreat will be launched online Saturday, May 1. "Arise: Put On the Armour of Light" will feature speakers Heather Khym, Debbie Herbeck, Mary Bielski, Rachel Herbeck, & Bishop Scott McCaig.
Register at: https://arisecatholicmovement.ca.
Source
Open to Grade 9 to University students. Starts @ 7 p.m. please visit our FaceBook page www.facebook/SourceRegina for the
latest updates.
Talk | Adoration | Praise & Worship | Confession | Fellowship
May 2 - St. Cecilia Parish
June 6 - Barn night
Masks are required

Please be mindful that we cannot accept packages that have been opened, items that are partially used or those beyond their expiry date.

Some items in need:
 Kraft Dinner
 Chicken Noodle Soup
 Non perishable-dry package soups
 Noodle packages
 Fruit cups
 Pudding cups
 Small cans of meat or fish (flip up tops)
 Mitts (much needed now)
 Powdered Milk
---
From home:

Your donation can be made to your parish by:

Pre-authorized direct debit
E-Transfer
By phone on credit card

Through the Archdiocese:

In the Comments box, include your name, envelope number, and tell the office how you want the money distributed (building fund, regular collection, food drive, etc.).

Click here to visit the Giving Page

In person:

You can also put your collection envelopes in a plain white envelope with "Little Flower Parish" on the outside and leave it in the parish mailbox outside the office door. We will record that donation as we normally would for the Sunday collection. Please use a cheque if possible, and not cash.

Social Time After Mass - Suspended

Join us on the first, second and fourth Sundays of every month for coffee and refreshments -- often a light lunch -- and visit with fellow parishioners.

Unfortunately we've suspended hospitality until after the virus situation resolves.

Ready for Electronic Giving?

Now you can make your offering gifts by automatic transfer from your bank account to Little Flower. Read more information in this document.
From the Archdiocese of Regina
A podcast brought to you by the Archdiocese of Regina attempting to navigate this winding road of faith in Jesus Christ so that we might know him more intimately, love him more profoundly and together serve him more deeply in our daily lives.
Have a question you'd like them to address on the show? Email Eric at egurash@archregina.sk.ca.
Tashia Toupin

Social Justice Co-ordinator

Dr. Brett Salkeld

Archdiocesan Theologian

Deacon Eric Gurash

Director

Communications and Evangelization
Other blogs and sites worth following
Blessed is She

Improving prayer life.

Supporting sisters in Christ.

Using social media for good.

Made for Greatness

Men's events in Regina

Pope Francis on YouTube

Find the peace and joy that can only come from God.

FORMED.ORG

Bishop Robert Barron

Exploring the intersection between pop culture and faith.
Welcome To Little Flower
Roman Catholic Church

Little Flower parish was established in 1930, and today serves almost 500 families from our beautiful church near Regina's core.
Our mission: Little Flower, as a faith community, reaches out to all in service, compassion and love to fulfill our mission of proclaiming the gospel daily in word and deed.
Our Patron, St. Thérèse
I will spend my heaven doing good on earth. I will let fall a shower of roses.
Thérèse Martin entered a Carmelite convent at age fifteen. As Sister Thérèse of the Child Jesus, she lived a hidden life. She was just 24 when she died of TB. The world came to know her through her autobiography, The Story of a Soul.
She described her life as "a little way of spiritual childhood." She lived each day with unshakable confidence in God's love. What matters in life is "not great deeds, but great love."
"My mission — to make God loved — will begin after my death," she said. "I will spend my heaven doing good on earth. I will let fall a shower of roses."
This is the reason St.Thérèse's emblem is a crucifix covered with a profusion of roses. The celebration of her Feast Day is October 1.
Our Stained Glass Windows
The windows in Little Flower church were designed and manufactured by Rault Freres, of Rennes, France, and installed by Burns Hanley Co. Ltd. of Regina.