Little Flower Parish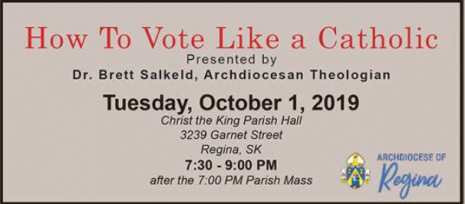 Celebrate with us

Feast of St. Therese

We, as a parish, will be celebrating the Feast of St. Therese of Lisieux at our Tuesday Mass.

October 1 @ 5 p.m.

We welcome all in our parish community to Mass on this special day.

New Ministry

Tech help needed

We need behind-the-scenes people to help with our Powerpoints

type in hymn names and numbers
type in the Readings
flip the slides during Mass

We're building teams for Saturday 5 p.m. and Sunday 10 a.m. masses.

Training will begin soon -- can you help? Let Gadia know by phone at 306-522-8583 or click here to send her an email and get your name on the list. Thanks!

We all participate in the Season Of Creation!

Dicastery invites pastors to prepare for the Season of Creation as part of their pastoral leadership, and invites communities to celebrate life and protect God's creation.

Holy Family

Office Administrator

Holy Family Parish, Regina is seeking a dynamic and service-orientated individual to fill the full-time position of Office Administrator. The responsibilities include reception and general administration as well. Previous experience in a busy office and strong keyboarding skills are necessary to be successful. The position deals with highly sensitive and confidential information.

This position reports to the Pastor.

Contact the office by email or phone 306-949-7678 for more details.

Save the Date

Transforming Faith

A gathering for priests, parish staff members, any member of pastoral or finance councils, Archbishop's Appeal volunteers, ministry volunteers, and anyone who is interested in the life of their parish. More details will follow in the coming weeks!

Saturday, September 21, 2019
8:30 AM: Mass – Holy Family Parish
9:15 AM: Registration – Riffel High School
10:00 AM – 4:00 PM: Arch Regina Congress
Riffel High School

Hosted at the following locations:
Riffel High School and Holy Family Parish
5757 Rochdale Blvd - 1021 McCarthy Blvd N
Proudly sponsored by the Archbishop's Appeal

Faith in Action

Our Parish Action Plan committees are looking for volunteers as well. Click here to see what we've accomplished so far, and how you can help with next steps.

Get Social After Mass

Join us on the first, second and fourth Sundays of every month for coffee and refreshments -- often a light lunch -- and visit with fellow parishioners.

Keeping a Mass Journal

EXPECT God to communicate with you

ASK: GOD, please show me one way in this Mass that I can become a-better-version-of-myself this week.

LISTEN:

- to the music
- to the readings
- to the prayers
- to the homily
- to the quiet of your heart

THE ONE THING will strike you ... write it down and pray about how you will incorporate that into your life this week.

Ready for Electronic Giving?

Now you can make your offering gifts by automatic transfer from your bank account to Little Flower. Read more information in this document.
From the Archdiocese of Regina
A podcast brought to you by the Archdiocese of Regina attempting to navigate this winding road of faith in Jesus Christ so that we might know him more intimately, love him more profoundly and together serve him more deeply in our daily lives.
Have a question you'd like them to address on the show? Email Eric at egurash@archregina.sk.ca.
Tashia Toupin

Social Justice Co-ordinator

Dr. Brett Salkeld

Archdiocesan Theologian

Deacon Eric Gurash

Director

Communications and Evangelization
Other blogs and sites worth following
Blessed is She

Improving prayer life.

Supporting sisters in Christ.

Using social media for good.

Made for Greatness

Men's events in Regina

Pope Francis on YouTube

Find the peace and joy that can only come from God.

FORMED.ORG

Bishop Robert Barron

Exploring the intersection between pop culture and faith.
Welcome To Little Flower
Roman Catholic Church

Little Flower parish was established in 1930, and today serves almost 500 families from our beautiful church near Regina's core.
Our mission: Little Flower, as a faith community, reaches out to all in service, compassion and love to fulfill our mission of proclaiming the gospel daily in word and deed.
Our Patron, St. Thérèse
I will spend my heaven doing good on earth. I will let fall a shower of roses.
Thérèse Martin entered a Carmelite convent at age fifteen. As Sister Thérèse of the Child Jesus, she lived a hidden life. She was just 24 when she died of TB. The world came to know her through her autobiography, The Story of a Soul.
She described her life as "a little way of spiritual childhood." She lived each day with unshakable confidence in God's love. What matters in life is "not great deeds, but great love."
"My mission — to make God loved — will begin after my death," she said. "I will spend my heaven doing good on earth. I will let fall a shower of roses."
This is the reason St.Thérèse's emblem is a crucifix covered with a profusion of roses. The celebration of her Feast Day is October 1.
Our Stained Glass Windows
The windows in Little Flower church were designed and manufactured by Rault Freres, of Rennes, France, and installed by Burns Hanley Co. Ltd. of Regina.